I saw a tweet today, which said, "I think we have to come to the realization there is no changing the minds of middle America. This country needs to be split in two."
I'm not adding the writer's name in credit, because I know this was said out of frustration, and not because it is something he truly believes, or wants.
Or does he? Can I know that for sure? Can he?
In the Gloom and Doom of "Trump's America"
Others, are publishing more decisively, wanting to be quoted about what they're seeing in Trump's America these days.
Conservative blogger Jennifer Rubin published this in the Washington Post:
"No week has matched this one in revealing the moral and intellectual rot at the center of the GOP. Pandemic intellectual dishonesty and celebration of uncivilized conduct now permeate the party and its support in the conservative ecosystem."
She summed up her 11 bullet points as evidence of the week's news, with,
"This is the state of the GOP — a refuge for intellectual frauds and bullies, for mean-spirited hypocrites who preach personal responsibility yet excuse the inexcusable."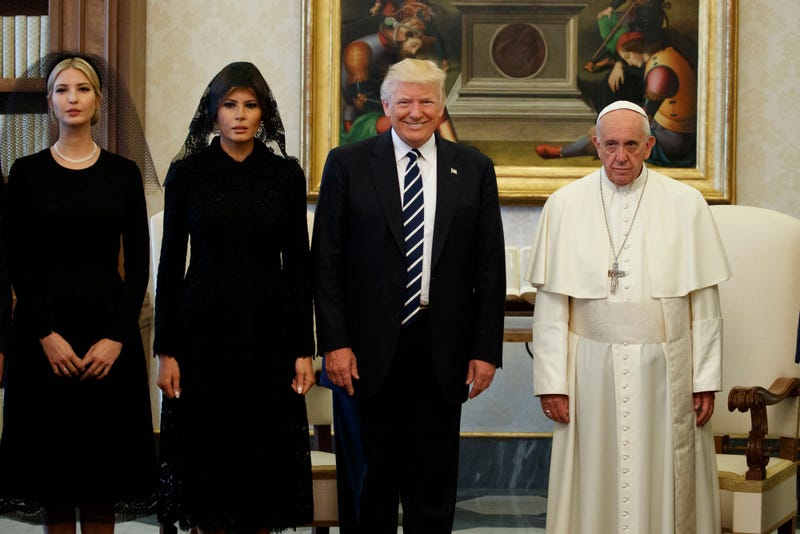 Ivanka Trump, First Lady Melania Trump, and President Donald Trump stand with Pope Francis during a meeting on May 24, 2017 at the Vatican (AP Photo/Evan Vucci)
Over on Medium, Umair Haque, whom I have quoted here before with his thoughts on leadership, published Bye Bye America;
"It's quite clear now that America is in the initial stages of collapse. Let me be clear about what that means.
It doesn't mean that the rapture happens tomorrow, that people turn into Morlocks, and so on. It doesn't mean you should build a bunker or pack a bug out bag (they're not gonna help you, anyways). Life will go on.
Collapse means that America is broken in nearly every conceivable way. Go ahead, and pick an "indicator", as the Vox types like to call it — any simple fact of social reality. Here are three of my favorites, because they determine people's quality of life. Life expectancy, income, trust. All three are falling now.
You can try the flip side, too. Go ahead and name a way, a human dimension, in which America is improving. Can you find one? I'll bet that if you can, it's either trivial, easily debunked, or insignificant."
Yes, it's gloomy out there if you track any vein of the news media at all. Even those who might feel they're winning, celebrate it with trolling those they disagree with, or with renewed fighting, and not within the true merits of their win…if any of those merits are to be found.
Sadly, Humanly, Commiserating for Release
I admit to you that I've found myself going there as well. I think I've gotten better about keeping my negative feelings to myself for the most part, yet I still must work on it. It's hard; I do not like what's happening, and my tendency is to fight it.
When I feel like a rising dam about to burst, I only use Twitter as my outlet, thinking of it as my overflow spillway when I fail at containing the anger and frustration I must release. A recent tweet I posted there, reacting to those 11 bullet points Jennifer Rubin reminded me about, was this one;
"We know Trump, GOP are deplorable. The pain of 'Trump's America' is reckoning w/our fellow Americans, whose insidious hate is destroying us."
I want to stop, and ignore it all, but I can't do that either—for I don't feel I should, and metaphorically speaking, "just give up, lay down and die."
Do Fight. Just be sure to Fight with Goodness.
To fight with goodness, is to fiercely protect your values, and reside sitting squarely astride your moral compass.
In "Trump's America"—I'm sorry, I don't know what else to call it right now—there are two sets of values you have to fiercely protect: Your own (and I give thanks every single day for the 19 Values of Aloha), and those you would define as American Values— even if you're not American, for you have to come to your own clarity about what, and who, you want America to be in the future, beyond Trump and his legacy. As Stephen R. Covey so aptly put it, you have to "Begin with the end in mind" and know that an "after this" always comes, whether in your lifetime or the next.
It's fashionable to say you "live in the moment" and common wisdom tells you to strive for that Ma'alahi contentment of presence, however I think it's more realistic to live for the future, and prepare for the world you want to both experience and leave behind, as part of a legacy you contributed to, while you still could.
Both During, and "After this" you will have what you Believe In.
I've been talking to myself a lot recently, with the self-talk of Belief. In addition to my values, my beliefs are what I'm most grateful for.
When things get ugly, I may indeed succumb to my humanness, and waiver a little bit, but I can definitively tell you this: My beliefs have not changed, including this one:
1. Great managers believe that people are innately good — they must. Without this core belief and faith in people, great management is not possible.
— The 10 Beliefs of Great Managers
I still believe that people are innately good — I have to believe that to do what I do, to work as I work, to share as I share, to influence toward being better, however I can possibly manage to do so.
Without this core belief and faith in people, it's not just 'great management' which becomes impossible; for me, tolerable living would become impossible.
I refuse to believe that people are bad to their core, though I accept that people will behave badly.
I must believe that people are always capable of returning to their Aloha Spirit, and in doing so, they can return to their source of eternal, foundational, spirit-fed, innate good, if only they will set that as their intention — I must believe it, and I will always believe it.
It takes a lot of work for that to happen sometimes.
It takes Ho'ohana work and determination.
It takes Ho'omau persistence, resilience and tenacity.
It takes Kuleana responsibility.
It takes Mālama caring and compassion.
And it takes Aloha most of all: In "Being Human" we Relate with Aloha.
We're Only Broken When We Stop Believing
So is America really broken?
These days, it often feels like it, more than I can ever remember it feeling in my own lifetime, a full 63 years long. This feels worse to me than the Viet Nam War felt, and worse than when John F. Kennedy was assassinated. It feels much worse than sending my baby brother to fight the war in both Afghanistan and Iraq, and burying my first husband when he was only 28 years old.
It even feels worse to me, than the dire straits of having the Great Recession coincide with my two children's college graduations, where record levels of unemployment and a housing crisis waited for them, and I was forced to redesign my business to adapt to our family's dwindling income streams. Remember the "Sense of Workplace" initiative we worked on in our Ho'ohana Community back then?
Still. What my 63 years of living has proved to me, is that I survived through all of that by merit of my values, and my beliefs. I've done it before— We've done it before, and we will always do it again, no matter what.
We are only truly broken beyond repair, when we stop believing in our innate goodness. Thus, we are always worth repairing, and becoming better again, as we're meant to be.
I'll end this with two more of My Beliefs:
7. Great managers believe the people they manage are more than capable of creating a better future, and will when given that chance. They hold great faith and trust in the four-fold human capacities of physical ability, intellect, emotion, and spirit.
8. Great managers believe in the power of positive, affirmative thinking, and they have a low tolerance for negativity. They are confident, consistent, and eternal ambassadors of HOPE.
So let's get to work.
Trump's America is a toughie. I wish I could promise you that from this day forward I will not post another negative, reactive tweet, but my truth is I know I'm not there yet.
I can however, promise you that I refuse to stop working on it. I'll keep working on being better, and returning to 'reside sitting squarely astride my moral compass' just as I ask you to do. Na 'Ohana Kākou: We know that together, we are stronger.
Subscribe for our weekly newsletter:
Talking Story with the Ho'ohana Community.
Preview the updates in Managing with Aloha, Second Edition, released July, 2016
Managing with Aloha, Bringing Hawai'i's Universal Values to the Art of Business
Our value immersion study for the months of May and June 2017:
Ho'okipa is a Game Changer in Service.