I started a new client on my Alaka'i Manager's one-on-one coaching program this week, and it's one of those new beginnings which always get me thinking about — and revelling in — Managing with Aloha's 'beautiful basics.'
When you are all-in, and deep into the throes of any philosophy, it can be so good to look back to your roots, taking the time to be certain they are still nourished by fertile soil— you, your core values, and your ground level intentions for good.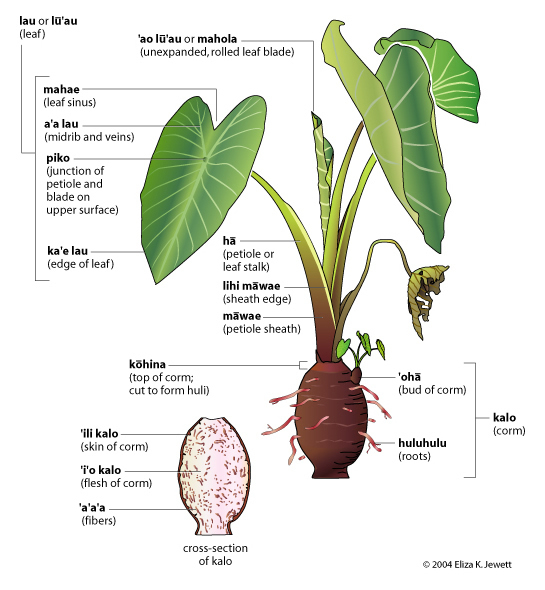 Among those basics, is the spirit-spilling of ALOHA as our MWA rootstock, our "kalo value."
[Image: Glossary of Kalo Terms, Bishop Museum]
"The life of Kanaka Maoli, the indigenous Hawai`i people, is linked closely with kalo, also known as the taro plant. Kalo is believed to have the greatest life force of all foods. According to the Kumulipo, the creation chant, kalo grew from the first-born son of Wakea (sky father) and Papa (earth mother), through Wakea's relationship with his and Papa's daughter, Ho`ohokulani. Haloa-naka, as the son was named, was stillborn and buried. Out of his body grew the kalo plant, also called Haloa, which means everlasting breath." —Canoe Plants of Ancient Hawai`i

—a fabulous online resource site you must visit and bookmark if you are not yet aware of it.
Every coaching program I do, starts with identifying the personal and professional values important to that manager, and talking story with them about how their values connect to Aloha.
Our Language of We
A second basic, is our "Aloha Intention" of Speaking with Aloha. In our new beginning working together, we start to speak the language of Managing with Aloha, using its' vocabulary and kaona (hidden meanings).
As most of you know, I don't actually speak the Hawaiian language conversationally, and am myself a student, still learning to do so. Ever since I started practicing MWA however, years before the book was written about applying it to management in business, I have used Hawaiian values and selected Hawaiian vocabulary as our "Language of We."
You can't "walk the talk" when there is no good talk to walk.
For instance, in my Alaka'i Manager's one-on-one coaching program, personal responsibility becomes Kuleana, one's work as defined by one's mission becomes their Ho'ohana, and the growth we seek in that manager's self-development plan becomes their 'Imi ola.
This is so important: Strong values are not just those beliefs and convictions you already have. They also represent goals and objectives, as the values you want to grow into.
Always remember: You choose your values.
Remember too, that values equip you: They define your WHY and they help you in your HOW as you tackle your decision making. Going back to the "spirit-spilling" part of it, our values serve us, by weaving self and spirit, mana and mana'o, into the work we do with Aloha.
The "beautiful basic" of Managing with Aloha is living a good life with great work. That's what I wish for you in every single day to come.
Go back, and check on your roots:
Bookmarks to keep:
"A different language is a different vision of life."
– Federico Fellini –
Key 5. LANGUAGE OF INTENTION:
Language, vocabulary, and conversation combine as our primary tools in business communications, just as they do in our lives: What we speak is fifty times more important than what we read or write. The need for CLEAR, intentional, reliable and responsive communication is critical in thriving businesses — and in learning cultures, for we learn an extraordinary amount from other people. Drive communication of the right cultural messages, and you drive mission momentum and worthwhile energies. Communication will factor into every single value in some way as its primary enabler. The Managing with Aloha language of intention is inclusive, and is therefore defined as the "Language of We" with the value of KĀKOU as guiding light.
Read more: The 9 Key Concepts of Managing with Aloha
Our #AlohaIntentions value for the month of October, 2016 is Ho'ohana as our Work Ethic.
Subscribe for our weekly newsletter:
Talking Story with the Ho'ohana Community.